This post is for all my beach babes who love to body surf, break out the wet suit, get tossled by the waves, basically my mermaids.
I love when influencers do cute swimwear try-ons, but how often does your ruffle swimsuit top see the water? Does it last years and years if I pay $110 for it and then drench it in salt water for 3 months?
I have gone through many swimsuits over my years and I think I have it down to a science what the perfect ocean friendly swimwear is.
FIRST the swimsuit must fit the following criteria:
Straps (a no brainer)
Very secure in the boobs
No fancy straps or cut outs (so we don't get all tangled)
no loose bottoms
In my opinion, it really doesn't matter much more than that! The main thing is that this thing is staying on your body no matter what. I do love brands that sell rash guards and more full coverage tops along with other types of tops as well so you can get everything you need in one place, but it's not a necessity. Now with that, here are some barnds I recommend considering for your summer swimwear!
---
This is a small, black owned swim brand started by Draya Howard. This brand has some very good classic swimwear and its SUPER SIZE INCLUSIVE which we love here! Their sets are very affordable as well! This SERENA set would definitely be a go-to of mine, but they also have great one pieces and TONS of sexy bikinis!
OHOY is owned by two scandinavian boss babes who make eco-friendly swimwear! Their Econyl swimwear is great for the environment and looks absolutely stunning. Their line is more expensive, plus you have to pay to ship it overseas, but I really think their bikinis stand the test of time. This MARRAKECH bikini set is one of my favorites of theirs because it's more full-coverage and looks gorgeous on all body types.
Xhale swim is designed and owned by Jessica Wong. They're made in Miami, Florida and each piece is one of a kind! They do make luxury swimwear so be prepared to pay higher price, but they run great sales that make it much more affordable! Their brand is also designed more for curvey women which I always need. This sweetheart set is perfect for getting in in the water, while also staying sexy and comfortable!
This is a brand I actually found on TikTok. They're a small brand based out of LA and the owners hand make all of the swimwear! Almost all of their pieces seem super secure, but I have not purchased any yet. I also love that it's supporting small makers who make high quality pieces! This Catalina bikini has had my eye on it for months now! It's more a more expensive brand, but support small makers! It's worth every penny!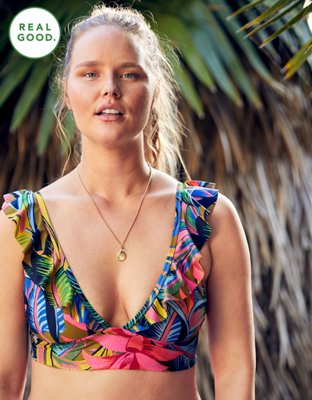 Now Aerie is a ride or die brand for me. They're very size inclusive and super affordable. They're not the least bit eco-friendly, but we can't all be perfect. They have all sorts of ranges of bikinis and you can save lots of coin with them as well if you sign up for Rakuten as well! They're a really great affordable option. Period.
This companies patterns are EVERYTHING! This is another black owned swim line that absolutely kills the swimwear game! They focus a lot on african patterns and they make tons of matching sets. They also have a large range of sizes and styles as well for all body types! I am obsessed with this IMO one piece for surfing and boogie boarding. The zipper in the front makes it super easy to get on and off and the long sleeves and full one-piece will protect you from rub rash!
This eco-friendly brand is actually a new found brand for me. They say their swim is specifically made for people who spend their time in the water (thats me!). They also use Econyl yarn made from recycled nylon, which means much more pricey, but super good for the environment! I don't personally own any of these because they are very much out of my price range, but I love what this brand does and what they stand for. I understand the price.
---
If you have any swimwear lines you love that I should check out make sure to let me know in the comments! I hope you find some great suits from these companies because they're all great brands and deserve your support and you'll be lookin super sexy and staying secure this summer in the water.
Cheers everybody!